Weekend Success!
We had such a brilliant weekend. It was a much needed re-charge for us and we were all treated like royalty. The team at Inn By the Sea could not have possibly made our stay any better. We love it there.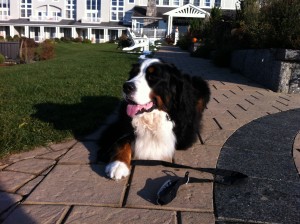 We had the most perfect room – with a private entrance right outside so we could take Sam out easily. The Prednisone makes him pee a real lot so having easy access was ideal. The only down side – every time Sam went out to pee, he immediately started pulling to the main lobby. And if I didn't let him head in that direction, he plopped himself on the ground and refused to move! I'm not kidding – that's the only place he wanted to be. It speaks volume as to how happy he is there. He just wanted to spend his time in the lounge with all his friends. He would look up at other guests walking in the front doors with a look of, "why are you in my living room?" or "come have a seat in my living room!"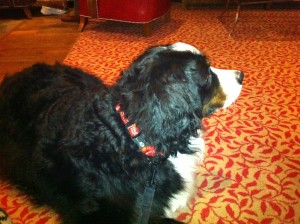 They boys know exactly who is who – they know who gives treats from the desk (Mark) and who brings out the dinner (Michael) and who will sit on the floor and rub their ears (Eva) and who will come to the room to sit with them (Caroline) – and all the others that love them unconditionally. They adore each and every person there! They met some great new friends, Happy and Lincoln, and generally were their adorable selves – they made us proud.
They were thrilled to have dinner by the fire. Sam likes to alternate between the lounge and the cold tile of the lobby. We always pick a strategic seat so he can keep an eye over all areas.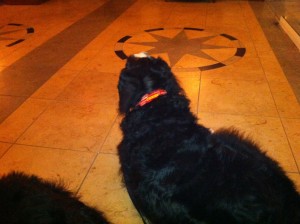 We had a great trip to Portland on Saturday and met some friends for a drink. Some very kind people brought out a water bowl to share which I thought was funny when both boys practically jumped in. Also, it took me a moment when one of the guys said, "do your dogs like lobster?" and then I realized he was offering lobster cookies!
 We were lucky to get a bit of a snow storm on Saturday. Generally I don't love the snow, but Sam does and we just were not sure he would get a last roll in the snow while he still can enjoy it. He loves making snow angels!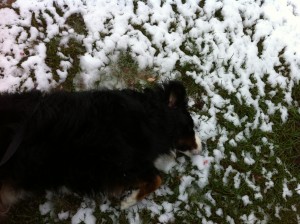 Sam is doing ok – his breathing is still gradually getting more labored and his coughing bouts a bit more frequent – morning is the toughest. He had a few coughs of blood this weekend. He's still not in any distress and still has good energy and a good appetite. We're just keeping him comfortable.
This weekend was all about creating more memories and spending good quality time with the boys away from our day-to-day. We wanted to unplug and get away from our daily distractions and really just chill. It was also about JB and I spending a special night out (thank you Mark for the dinner reservation!) so we could energize ourselves for whatever is next on our journey. We're in a good place – we're at peace and we're calm and we're ready for whatever Sammy needs. Thank you to all our wonderful friends at the Inn By the Sea for making this weekend so incredibly special.