Hello to all our Friends
Hello Everyone!  I know, I know, it's been all together way too long since we've posted…but it doesn't mean we don't think of our many friends frequently!  We had a crazy hectic 2012 and a similar start to 2013.  All is fine, just passing us by much too quickly.  Anyway, thought we would just say hello.  The boys are fantastic.  Archibald is by far the funniest and most outgoing Berner we have had.  He's a complete meatball and a love bug.  He would give kisses 24/7 if we didn't stop him for fear of licking us raw!  He's 11 months old and weighing in at about 100 pounds.  Macklin still keeps him in line and loves their daily throw downs.  He's most definitely keeping Mack on his toes.  Macklin has lost all his separation anxiety from losing Sam and it's so great to see him back to his old self.   He has this crazy/funny habit of running as fast as he can when he's lying on his side…it's the funniest thing I've ever seen!  JB and I laugh although sometimes people ask if he's ok….ha…even Macklin gives him the look of "that's not normal, dude!"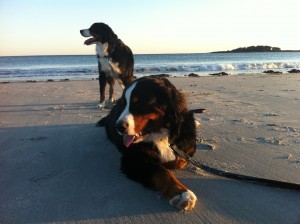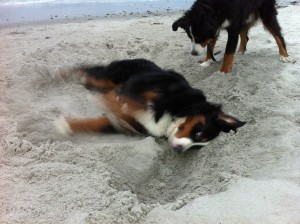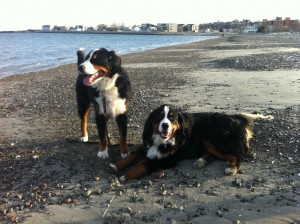 We had an amazing visit to our little get away spot up in Maine (Inn by the Sea) back in November.  As some of you may recall, it was one of Sam's favorite places to visit – it was so fantastic to get back to see old friends.  We left a bit of Sammy with them at the beach and toasted him with some champagne.  It was a lovely trip. 
It's hard to believe it's been 15 months since we said goodbye…we have such unbelievable memories of our journey.  Archibald has so many similar qualities of Sam (although he's no where near as stubborn) and he looks so similar that it actually brings us joy.  They are so different but so similar….we love it!  We forgot how much work a new puppy can be….it's not really that it's more work but rather we've gotten a bit older…sigh!  We've had some good snow storms so the boys have had tons of outdoor play.   Ok…so it's not uncommon for us to yell to Macklin "get Archie's head out of your mouth!"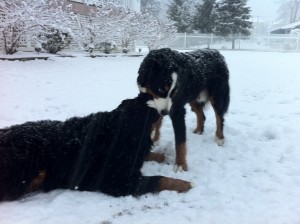 And Archibald always crashes hard after a romp in the snow!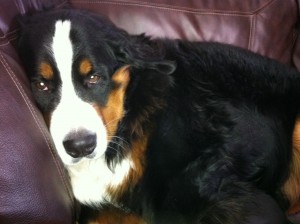 I hope all our friends, new and old are well and please know you are in our thoughts! 
xoxo Sue