Hello! Once again, it's been much, much too long between posts. Despite the lags in keeping in touch, please know we think of all our friends often! We've had a great summer. The boys are doing fantastic. Archibald is now 1 ½…..and still full of it! Not a week goes by where JB and I don't laugh at some point because he reminds us so much of Sammy….it's really bizarre…in a good way. He's very smart, but very naughty….he certainly keeps us on our toes. We finally decided to replace our front lawn this summer….it was still all burnt out from Sammy's chemo pee and we held off last summer when Archie was still a puppy. So we bit the bullet and did it this year. Except Archie had other plans…..he realized that "keep away with sod" was actually a really fun game. He would pull up large pieces of the sod and run around. And when we got wise, he would still his nose under the gate and pull it out in sheets. Sigh! So we're on round 2 and all is going well….as I said, he's very naughty!
Here are a few pictures of the boys. Archibald now has 20+ pounds on Macklin….Macklin has always been very slight for a male, but Arch is a big boy!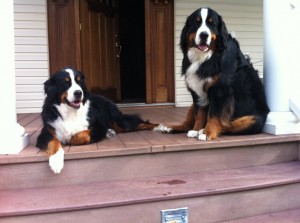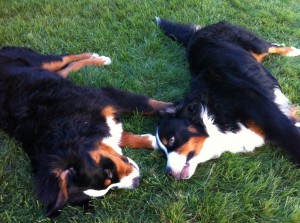 We had a great trip to Martha's Vineyard this summer. The boys loved the island vibe and it was super chill break.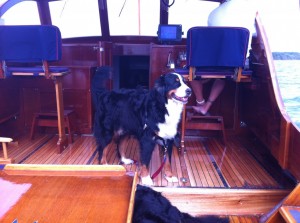 We chartered a boat which was fantastic…both Macklin and Archie love the water.
Archibald learned that if he went belly up at the bar, everyone coming in would give him a rub…smart boy!
Please know you're all in our thoughts!
Best!
Xo Sue